Ohh, how I love soup, keto, and the instant pot. So, why not create a blog post with my favorite types of soups that are keto and instant pot friendly?
#1 Cauliflower Potato Soup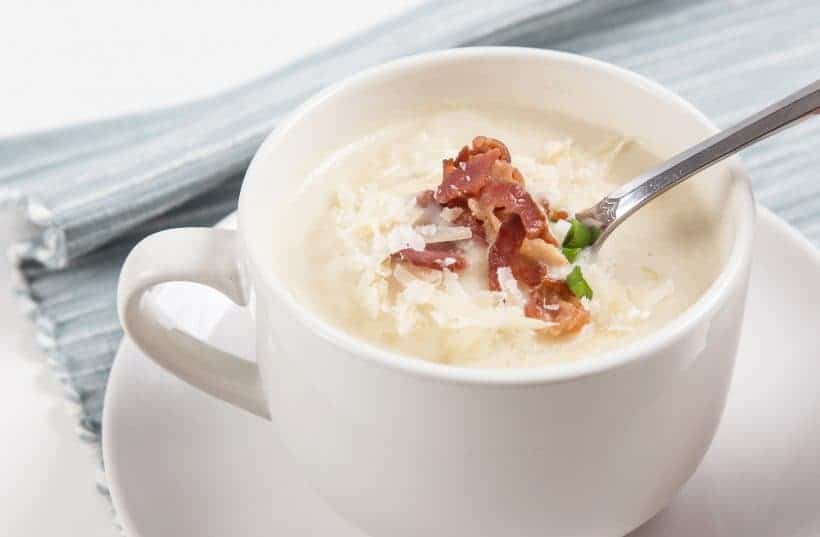 The classic potato soup, but make keto and instant pot-friendly 🙂  
This takes a total of 40 minutes for prep and cooks time, and it will rock your socks! 
#2 Four Cheese Soup 
There is nothing that I love more than cheese and soup. Good thing you can combine the two, for a deliciously warm and filling meal
#3 Pumpkin Soup 
A fall favorite! Try adding some goat cheese for a perfect fall soup. 
#4  Spicy Mushroom Soup 
This is a spicy mushroom soup, and is very tasty!
If you like canned cream of mushroom soup, you will most definitely like this recipe.
Add serrano peppers for extra heat! 
#5 Buffalo Chicken Soup 
This keto soup very creamy and fulfilling. Trust me you won't be disappointed.
#6 Poblano Chicken Soup
This recipe is very creamy and filling. It does call for beans, however, if this is too many carbs for you can omit the beans and double cauliflower. 
Also, for more flavor use chicken stock instead of water, and add serrano peppers with the seeds to add heat. 
Also, if you don't have an immersion blender, use a food processor.. it will work just ask good 
#7 Broccoli and Cheese Soup 
This is a great broccoli and cheese soup! If will come out a little thin, and is not spicy at all.
Try reducing the broh, and adding xanthan gum for a thicker base. 
#8 Broccoli Cauliflower Cheese Soup With Sausage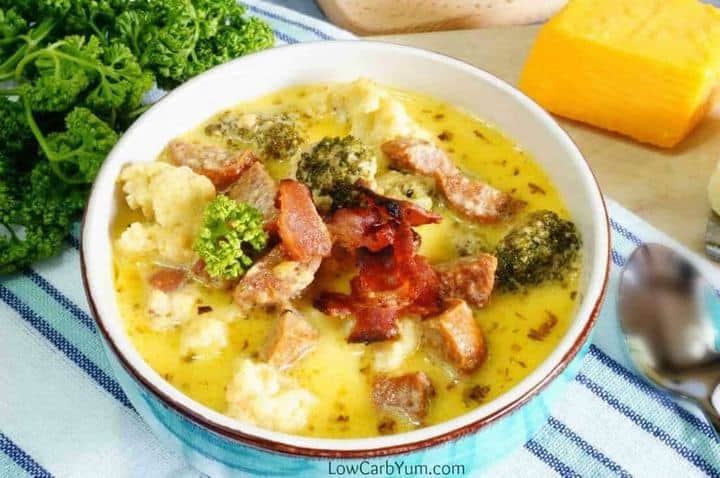 I love my sausage, so why not combine it with another favorite. This is a broccoli and cauliflower cheese soup with sausage! 
For different flavors try changing the sausage type and cheese type. 
Also, leave the bacon and sausage drippings for even more flavor! 
#9 Taco Soup Recipe 
This low carb instant soup is only 5 ingredients! 
For a healthier version, try making your own ranch dressing. It tastes way better! 
#10 Buffalo Chicken Soup with Blue Cheese 
This recipe can be made in the instant pot, crock pot, or maybe even the stove ( but why would you do that?) 
Add more hot sauce for hotter version!