Oh, how I love pasta.
Maybe not so much pasta in itself, but all of the awesome recipes you can make with the high carb, off-limits food called pasta. 
Fortunately, there are many really good carb replacements for pasta!
Read here about the best low carb replacements. 
After being on a keto diet for a while, I actually prefer zoodles to actual pasta. I don't get tired afterward, or feel guilty. Sure, maybe pasta is a little bit more gratifying, but not worth gaining weight! Not to mention that water weight… 
Here are the 9 best keto zoodle recipes! 
#1 LEMON GARLIC CHICKEN ZOODLES
Tell me this does not look delicious? 
Zucchini Noodles can be a little difficult to make, and if done wrong can turn out soggy. 
Some suggestions for this recipe is to leave the zucchini noodles a little crunchy after cooking which prevents the leftovers from becoming soggy. 
Add some red pepper for spice,  and change out the chicken for shrimp to make a fancier dish. 
Add more garlic and lemon to suit your tastes. 
#2 Tuna Green Chile Zoodle Casserole
This Green Chile Zoodle Casserole will knock your socks off! 
Some notes ( to prevent sogginess) Try to press out ALL water from tuna and zucchini before mixing all together. You don't want the casserole to have too much liquid. You can also place the zucchini noodles on a baking sheet and "bake" at 250F for 20-30min (depending on the thickness). 
Some also note to  1/2 cup coconut milk Is not enough and to use the entire can. This will depend on your individual preference, and the ingredients you are using. 
#3 One Pot Kung Pao Chicken Zoodle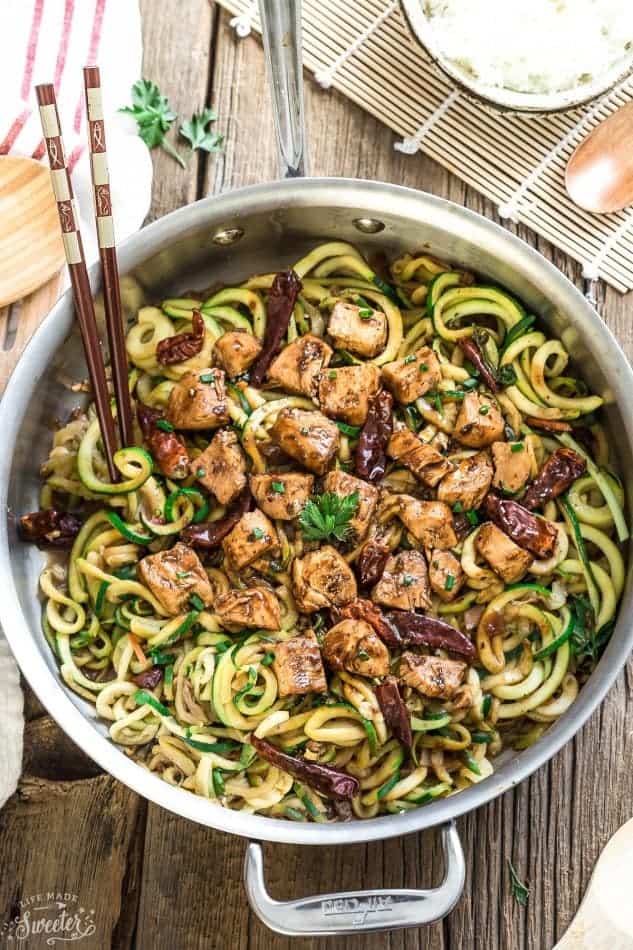 Chinese noodles are one of America's favorites. Thankfully you do not have to give them up when on a ketogenic diet. 
Read here to learn more about cooking Chinese food on a keto diet!
This Kung Pao chicken recipe has already been tailored to suit a keto diet, and is much better than Chinese takeouts! 
No more feeling bloated. You can have your cake and eat it too… kind of… ok, no you can't have your cake. 
#4  FRENCH ONION ZOODLE BAKE
I hope by now you realize that you will not be deprived when following a keto diet!
The possibilities are limitless! 
Check out this French Onion Zoodle Bake! 
#5 Lasagna Zoodles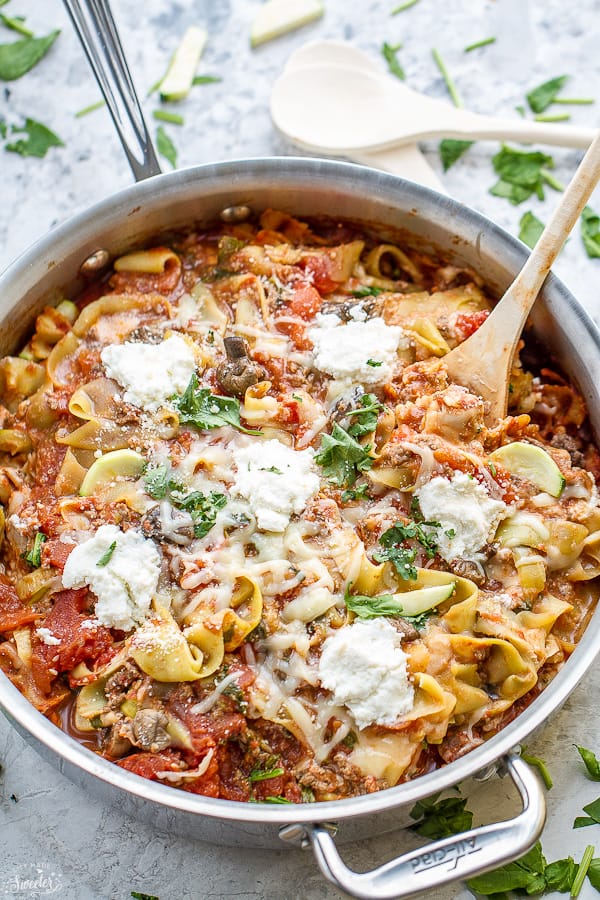 This recipe will leave you nothing but good feelings and a sense of satisfaction. 
#6 Garlic Parmesan Zoodles 
This zoodle recipe can be made under 10 minutes! And includes only 5 ingredients.
What is there not to love?
#7 Thai Peanut Chicken and Zucchini 
I love Thai food, and this recipe hits the spot!
If you love that delicious Thai peanut butter sauce, this will be sure to soothe your longings. 
The recipe does call for brown sugar, but you can choose to leave it out, or add a little bit of monk fruit. 
If you are just beginning a keto diet, stay away from the artificial sweeteners!! 
#8 Creamy Garlic Parmesan Zoodles 
I love fettuccine, and fortunately, fettuccine sauce is keto friendly. 
Also, good thing there is a thing called zoodles 🙂 
Try these creamy garlic Parmesan zoodles! 
#9 Broccoli Rabe and Sausage Parsnip Spiraled Pasta
This is a little higher in carbs, so be careful! 
By changing up the type of sasuage you use, you can lower the carbs in each.
#10 Simple Garlic Shrimp Alfredo Zoodles
This is the perfect keto recipe!
The nutrition will come out per serving:   fat grams 51, carb 7, protein 48 per serving.
This will vary depending on the ingredients you use, but would make a great keto meal. 
#11  Paleo Thai Chicken Zoodle Soup
This recipe takes a little bit more time, but is worth it!