I'm super lazy. 
If you're reading this lazy keto meal idea article, you're probably  lazy too! 
Once I went on the keto diet, I looked up tons of recipes. 
I even made a few of them. 
But the recipes were time consuming, and I had to be careful of every gram of protein, fat, and carbs in re recipe. 
 I went on the ketogenic diet to stop thinking about food, but instead my time went into cooking and browsing for new recipes (which is fun, but I wanted to do other things). 
Over time, I developed easy meals that satisfied my hunger and did not take a lot of time. 
Keep in mind, that lazy keto does not mean "half-assing" the diet. 
You still need to keep your carbs low enough to reach the state of ketosis and become a "fat burning machine". 
However, if you don't want to consume your life with living by strict guidelines lazy keto is the perfect eating habits. 
A much more "relaxed" way of dieting. 
The best definition I found for eating lazy keto  was from the Keto Queens. They Quote "intuitively eating a low carb, moderate protein and high fat diet without tracking macros". I add to that definition with  " doesn't take a lot of time"
Not tracking macros+ quick and easy= perfect lazy keto meals. 
The Ultimate Guide to Lazy Keto Meals 
5 Quick and Fast Breakfast Low Carb Meals 
Scrambled Eggs 
Eggs are the cheapest and most nutritious foods you can buy. You are really getting a bank for the buck. 
Not only are eggs cheap, eggs are quick and easy to make. In approximately 10 minutes, I can have a 4 egg scramble topped with green onions and cheese. 
4 eggs will fill anyone up until lunch time, and it doesn't contain many calories!
BulletProof Coffee 
Bulletproof coffee is a great low carb breakfast that doesn't contain eggs. Bulletproof coffee contains butter and coconut oil with a little bit of sweetener. It's quick to make, taste wonderful, and is the perfect addition to a high-fat low carb-diet. 
Check out the perfect Bullet proof Coffee here
Avocado+Boiled Eggs 
Avocado and Boiled Eggs is highly nutritious and very high in fat. 
It's the easiest way to get high nutrition in your diet with little investment in terms of cooking times. 
Always go for the pasture raised eggs as they are higher in Omega 3s (and taste better). 
Keto Breakfast Cereal 
There are tons of new keto friendly breakfast cereals coming out. Cereal is the ultimate lazy meal, and combine cereal with the ketogenic diet you have an awesome food combination. 
Body by Ketosis wrote a terrific article on the top 11 cereals you can buy. Check top keto cereals  by clicking this link. 
There are plenty of milk alternatives for a ketogenic diet. Almond milk, coconut milk, macadamia milk are some of the most popular keto milk alternatives. 
Fast Food Breakfast
Yes, I said it. Eating fast food while on keto is not keto approved. 
Keto evangelists might faint at me saying that you can eat fast food on a keto diet. 
You can eat fast food without stalling your weight loss.  I call eating fast food on a ket diet lazy keto. 
Low Carb breakfast options:
Sausage, egg cheese with no bun 

Bacon, egg, sausage cheese scramble 

Taco Bell Naked Egg Taco 
7 Meal Prep Ideas for a lazy Lunch
After a while being on the keto diet you're not going to want to eat as much food.  You will find yourself thinking less and less about food. It's a fantastic time to pick up a new hobby, or work on goals that will bring you closer to the life you want to live. 
That's why you started the keto diet. To gain control of your life. 
The turkey and cheese roll up is an easy and filling lunch that takes little thought in the morning. 
Keto Salads 
Salads are the perfect way to get your fat intake, vegetable intake, and protein intake at the perfect macros for maximum weight loss. Salads are also the best entree to order at a restaurant. Be careful of the dressing and don't eat the croutons.
I gathered 5 low carb salads below that are easy to make. 
Intermittent Fasting
Intermittent fasting is the laziest, most keto-friendly way of eating. Just don't eat. 
Technically, you're body is eating a meal that was previously stored. Perfect for left overs! 
I find I am way more productive when skippnig lunch. 
Chicken Salad 
Chicken salad is the perfect lazy low-carb meal. Prepare the chicken salad  ahead of time, create lettuce wraps, or eat it alone. 
Click here for the best keto chicken salad.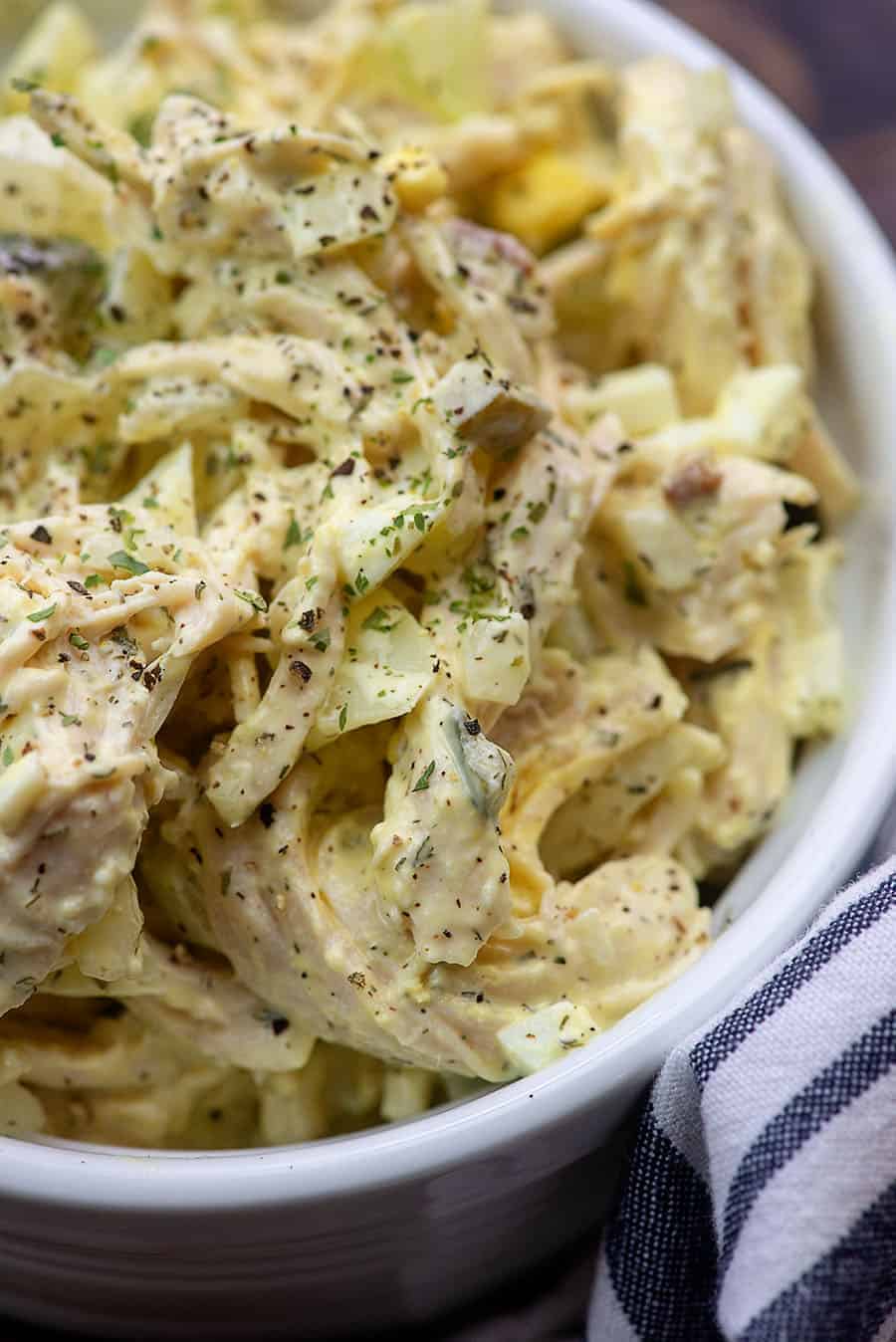 Keto Bento Box 
When I think bento box I imagine rice, sugary sauces, and wontons. 
Unfortunately, none of those foods are keto-approved. 
You can however substitute high-carb foods for low-carb foods. 
Check out the best keto bento lunch ideas for work at this link. 
Tuna fish+mayo ( or hot sauce)
I love to buy tuna fish and add hot sauce. You get a packet of tuna fish and then 
Olives from olive bar with feta cheese 
Olives are one of the best keto-approved foods. You most likely have a grocery store near you that serves fresh olives.

Go ge them. They may be a little expensive, but don't let that deter you. They contain tons of nutrients that will keep you healthy and young! 
Combine olives with feta cheese and you got yourself a lazy fat-burning meal. 
7 Lazy keto Dinner recipes Under 30 Minutes 
If you don't have an instant pot, that is okay. There will be options other low carb options that don't require an instant pot. They are very helpful when wanting to save time, and I would consider buying one. 
Shrimp+Garlic+Ghee
The fanciest most delicious dinner on the planet is shrimp with garlic. 
Thankfully, Shrimp and Garlic is very easy to eat and perfect for the ketogenic diet. 
Check it out here
Fast Food Burger Joint 
Yup. Fast food restaurants have plenty of keto meals that are easy, quick, and cheap. 
They're perfect when you don't feel like cooking and being lazy. 
My favorite being Wendy's Double with no bun and no sauce. Wendy's also has a very good salads that are wonderful on a low carb diet. 
Burger King, McDonalds, and the rest of the burger joints will customize a burger to make it keto friendly. 
Baked Chicken 
Baked chicken is my go too for cooking lazy meals on a ketogenic diet. I buy different seasoning, chicken thighs and season them different every time. 
I don't have a recipe. Preheat th oven until it's 375 degrees Fahrenheit and cook for 35 minutes. 
That's it. Change the seasoning up so you don't get bored. 
Stuffed Pork Chops 
These easy keto stuffed pork chops can be made under 30 minutes, and are phenomenal. 
You will make them over and over. They never get boring! 
https://www.dinneratthezoo.com/stuffed-pork-chops/
Low Carb Crack Slaw 
The name "Low Carb Crack Slaw" says it all. 
It's addicting, and you will be making it time and time again. 
Instead of hamburger use pork, and add any vegetable that you want. The combinations of protein and veggies are endless. 
Check out this crack slaw recipe for a quick, keto friendly dinner 
Instant Pot Chicken Enchilada Soup 
I love mexican food. Thankfully, there are tons of mexican food recipes on the internet that are low carb, keto friendly, and easy to make. 
Add sourcream and avocado to this favorite and you got yourself a keeper. High fat, low carbs, and pretty simple to make . What is there not to love?
You also can make this chicken enchilada soup is a slow cooker or on the stove top. 
Keto Bone Broth 
Okay okay, maybe this is cheating. Is bone broth actually dinner? Yes, it is. 
I love bone broth, and it always satisfies my hunger. If you are doing the keto diet, you are going to want to combine the ketogenic diet with intermittent fasting. Drinking bone broth for dinner is the best way to accomplish quick weight loss. Bone broth also has many important vitamins and minerals that will help you age slower, and feel amazing. 
Who wouldn't want that?
Check out an amazing bone broth recipe here. 
Learn more about intermittent fasting here. 
Pre-Made Keto Meals 
Due to the explosion ini popularity of the ketogenic diet you can buy premade meals at grocery stores, boutique food stores, and online. 
Keto-Meal Prep 
Having someone cook your food and deliver it to you is the ultimate lazy way. 
I live in Seattle, and there is an abundance of keto meal prep delivery options. 
Check out this meal prep delivery service. 
If you don't live near a major cosmopolitan area, don't worry. You have options. 
Google " Keto meals" near "Your city" and you may be suprised with your find! 
Lazy Keto Desserts 
Avocado Chocolate Pudding 
The best and easiest dessert you can make! If you don't like avocados, this is perfect to "disguise" the avocado, and get the nutrients and fat macros from avocados. I perfer to use Hershey's Special Dark Cocoa as this gives the pudding a rich chocolate flavor. 
Get Hershey's Special Dark Cocoa Here 
Below is the best Avocado Chocolate Pudding Recipe
Dark Chocolate
85% or higher Dark Chocolate, or a keto friendly sweetened chocolate bar
– My favorite chocolate is Lily's stevia sweetened bar. Lindt also makes a very good and affordable 85 percent chocolate bar. 
Or pick up a Lily's Chocolate bar here
Keto Friendly Ice Cream 
There are tons of keto friendly ice creams coming on the market. This is perfect for lazy people who don't want to make their own ice cream. 
Check out the keto lazy ice cream here 
Berries and Cream 
Strawberries, Blackberries, and Raspberries are all wonderful on the ketogenic diet, and don't require any cooking.
You can buy store-bought whipped cream, but it would be much better to make your own with a whipped cream maker. 
You can control the ingredients in your whipped cream, and it taste 1000x better. 
Pick up the whipped cream dispenser I use here 
Lazy Keto Sample Meal Plan
Breakfast: Scrambled Eggs with Chives, Sour Cream and Cheese 
Whip up four eggs and cook on medium-low heat. Add sour cream, chives and cheese and you got yourself the laziest person low carb meal. 
Lunch: Intermittent Fasting- Yup, I'm too lazy to even eat!
Keto Dinner: Wendy's Double with no bun and a side Salad. I don't even have to get out of my car. 
If you don't like cooking, and you don't want to count every macro you eat following these lazy keto meals guidelines will help you immensely in your weight loss journey. 
Now you know all about lazy keto meals! If you have found meals that are even lazier for keto post them in the comments below!
Learn more about the keto diet
The Keto-Indian Guide to eating Out