I love bread. I also love feeling great and being able to fit into my pants. But where do you buy keto bread?
Sadly, sometimes you can't have everything.
I decided that it was time for the bread to leave my life.
That's why I started the keto diet. To lose weight and fit into my pants!
At first I replaced the hamburger bun with a lettuce wrap, deleted french toast from my diet, made cauliflower "keto friendly" breadsticks, melted cheese and pretended it was a grilled cheese sandwich, but still craved actual bread.
These keto carb replacement foods weren't as good as bread made with gluten flour.
After reminiscing on "cheating" on the keto diet, I visited local grocery stores for low carb bread, and to my dismay didn't find any low carb bread brands.
After failing to find any low carb alternatives at the grocery store, I immediately looked up "Where to buy keto bread".
To my excitement, there were many different types of low carb breads that were keto friendly.
Unfortunately, many claimed to be low carb but actually weren't.
Like 10 carbs per slice of bread is way too much.
I decided to come up with the best places to buy keto bread to help others become aware of the possibilities! I've listed various type of bread you can buy for different occasions.
Eat bread and lose weight 🙂
Best 7 Keto Bread Brands that you can buy online
This is my favorite keto friendly bread to buy online. I have even seen this keto bread sold in upscale grocery stores but that's the only place. You can find it in the frozen section near the EZEKIAL Bread.
Julina's bakery keto thin bread tastes divine with butter or jam. It's also guilt free!
I personally prefer this over regular bread.
This keto bread also makes wonderful french toast and grilled cheese sandwiches. Two items that I really missed!
Cons: When ordering Julian's Keto bread it may take awhile to ship. If you're about to run out, I would order 10 days before your last loaf. It can also be a little pricey, but your health is worth the cost of a few dollars. Think about how much people pay for weight loss surgery, pills, and time wasted.
One slice of this bread comes in around 1 net carb. Below is a snapshot of the nutritional information. The ingredients include Purified Water, Blanched Almond Flour, Organic Cage Free Whole Eggs, Organic Butter (Grass-Fed), Organic Cream Cheese, Organic Vanilla Extract, Baking Soda.
>>Check out the latest price for Julian's Bakery keto thin Bread
You can also find Julian's Bakery Keto thin Bread at Whole foods and Central Market in the frozen section.
This looks, smells, feels, tastes like the regular old high carb bread.
It is a little bit higher in carbs, so if you are in weight loss mode I would stay away from this brand.
However, if you have lost the weight, and just want to maintain your weight, this a perfect substitute.
The SOLA company also has grain free granola , low carb buns,sugar free ice cream, and much more. You check there products out here.
Each slice of low arb bread comes in at 4 net carbs grams.
>>Check out SOLA Sweet and Butter Low-Carb Bread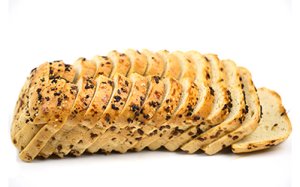 SlimThin Low Carb bread is awesome for grilled cheese sandwiches! The bread contains a lot of fiber so the texture can be thicker. It's still delicious.
The plain flavor has 0 carbs. Below is a nutrition label from the plain slim thin bread.
How can a bread have so little calories and carbs?
Well, because it's made up of of fiber. Below is a list of the ingredients found in SlimThin's bread.
You can't find SlimThins bread in stores, but you can find the bread online.
Buy it directly from Slim Thin's online store and not Amazon.com. This is because Amazon has been notorious for selling SlimThin's bread moldy!
Where can you find low carb bread substitute produced by Slim Thin?
>>Check out the latest price for SlimThins Bread
This bread is mostly made up of cauliflower.
These cauliflower sandwich thins are affordable, pre-made, low carb, freezable cauliflower bread & pizza crusts. A little bit different than the typical low carb breads online. You can't find this keto bread in stores.
These are 3 carbs each, and make for the perfect replacement for hamburger buns. They contain cauliflower, parmesan cheese, eggs, and yeast. You can make these cauliflower thins at home, however it takes a lot of time.
Before buying, keep in mind that they are small – about 4.5" – and a little pricey, especially with shipping. You can taste the quality.
They average $1.75 a slice (with shipping) but when you consider the cost of eating out or ordering out this isn't pricey.
Plus they're so healthy, low calorie and great for low carb, keto, and paleo diets. These are also gluten-free which is perfect for those with food sensitivities.
Where can you find plant power low carb bread?
If you are sick of whatever eggy/almond flour abomination you make at home this SoLo has the perfect alternative. Breads made with coconut flour, eggs, and almond flour resemble bread in appearance, but are usually dry or too eggy. SoLO bread solves this problem.
It's a little pricey, but many people think the bread is worth the price.
Keep it in the freezer and toast as needed. Create french toast, avocado toast( my favorite), toast with an egg in the middle, etc…
The possibilities are unlimited.
Where can you find So Low Low Carb Bread?
>Check out the Latest Price on SoLo Carb Harvest Wheat Bread
Breadcrumbs are wonderful as a thickening agent and holding meatloaf together. When getting rid of breadcrumbs on a keto diet, it can be a little difficult finding a good replacement.
Thankfully,you can make breadcrumbs out of pork rinds! Pork Rind Breadcrumbs is the perfect keto substitute when cooking.
Pork King's low carb breadcrumbs ( and other brand) are perfect for mozzarella sticks, seasonings, jalapeno poppers, and fried chicken ( my favorite)!
People who are not on the keto diet even like these breadcrumbs!
These contain zero carbs making the perfect breadcrumb substitute when losing weight.
Where can you find this keto breadcrumb recipe?
>>Check out the latest Pork Rind Crumb Latest Price
If you don't want to buy a bread alternative premade, give KNOW better bread mix a try.
The mix is gluten-free, high protein, high fiber, and low sodium. The baking mix contains almonds, coconuts, egg whites, flaxseed and chia seeds. Perfect for Whole 30, keto, and paleo diets.
Don't expect KNOW bread mix to taste exactly like "regular bread". It contains no gluten or flour
Besides making great bread, it makes a killer good pancake and waffle. The low carb pancakes come out fluffy and thick satisfying any craving you may be having.
Total net carbs are 3g pers slice. Where can you buy Know Better mix keto bread?
You can find Know Better Mix here.
Commonly Asked Where to Find Keto Bread Questions
Is Ezekiel bread low carb?
No. Ezekiel bread is not low carb or keto friendly. Eat Ezekiel bread at your own discretion. 11 grams of carbs per slice is too much when trying to lose weight on a keto diet.
What is the Lowest Carb Bread?
Julian's Bakery Bread is the lowest carb and best tasting bread on the market.
Is there keto bread in stores?
Yes, depending on where you live. The best way to find out if you have keto bread near you is to google the name of the low carb bread and add the words "near me". The brand usually will have a find a store near you feature.
Is there keto bread at Walmart?
Everyone's Walmart is different with the low carb breads they sell. Some Walmart's carry Julian's Bakery Bread, and also sell Bob's Mills Keto Low Carb Baking Mix. When in doubt, take a trip to the store and go on treasure hunt for some keto bread.
What can I eat instead of bread ?
There are many bread alternatives on the keto diet. You can make your own bread utilizing carbquik or carbalose flour. You can also replace bread with an alternative.
For instance, you can use portobello mushrooms for a pizza crust instead of actual bread.
You can also make your own bread with low carb flours. Check out carbalose flour and my list of carbquik recipes.
Carbquik and carbalose flour have the texture of bread, but with the carbs taken out. You can't find these low carb baking mixes in stores, but you can find these bread mixes online.
In conclusion, going on the keto diet does not mean you have to go without bread. There are many places online you can buy keto bread. Where to buy keto bread should never cross your mind.
Is there Low Carb Bread at Aldi?
Yes, Aldi does have Low Carb Bread. You can find an awesome review on low carb Aldi bread here.
Other awesome Keto Posts
Best Ketogenic Ice Cream Brands
Ultimate Guide to Keto Nuts and Seeds